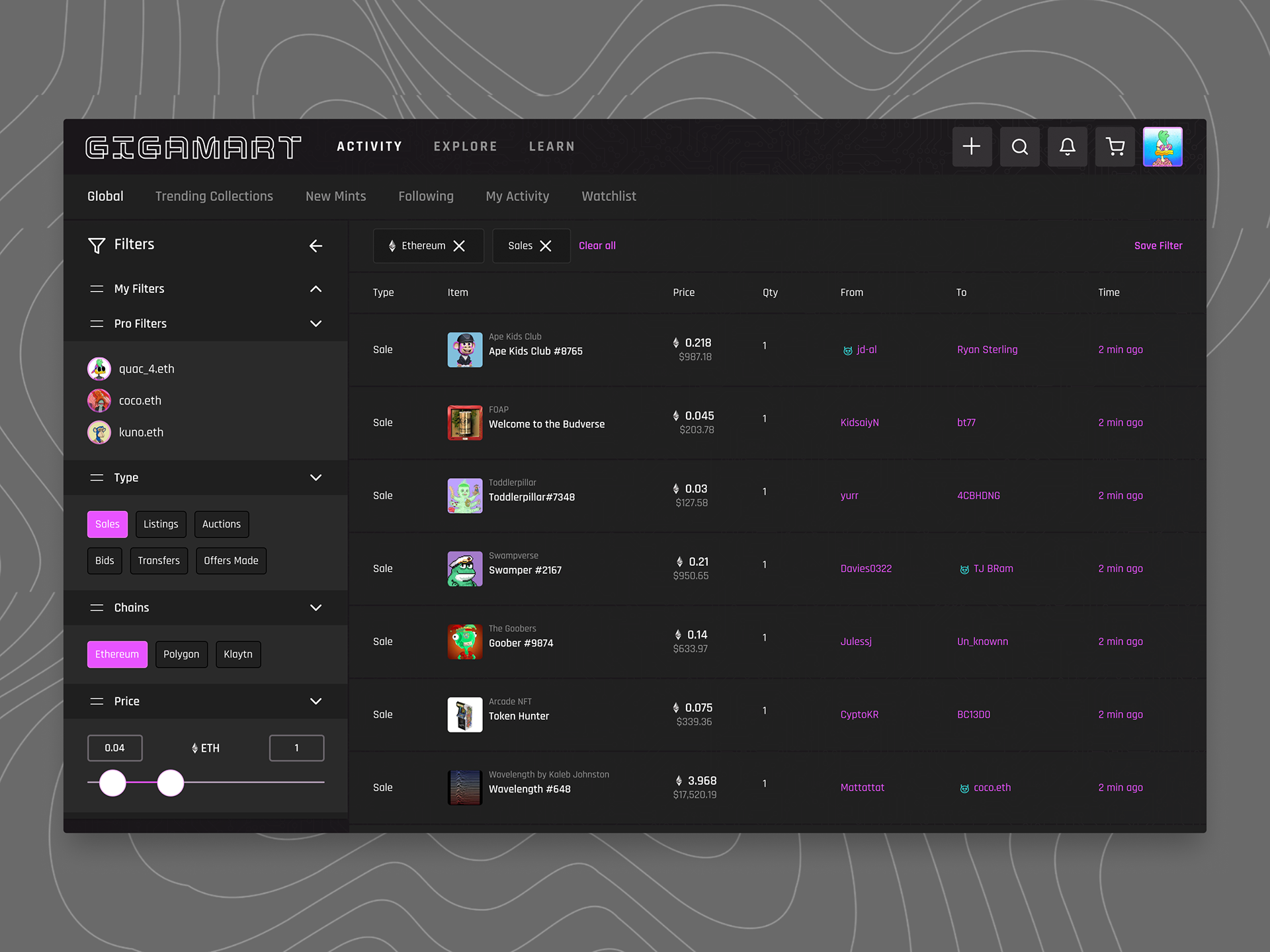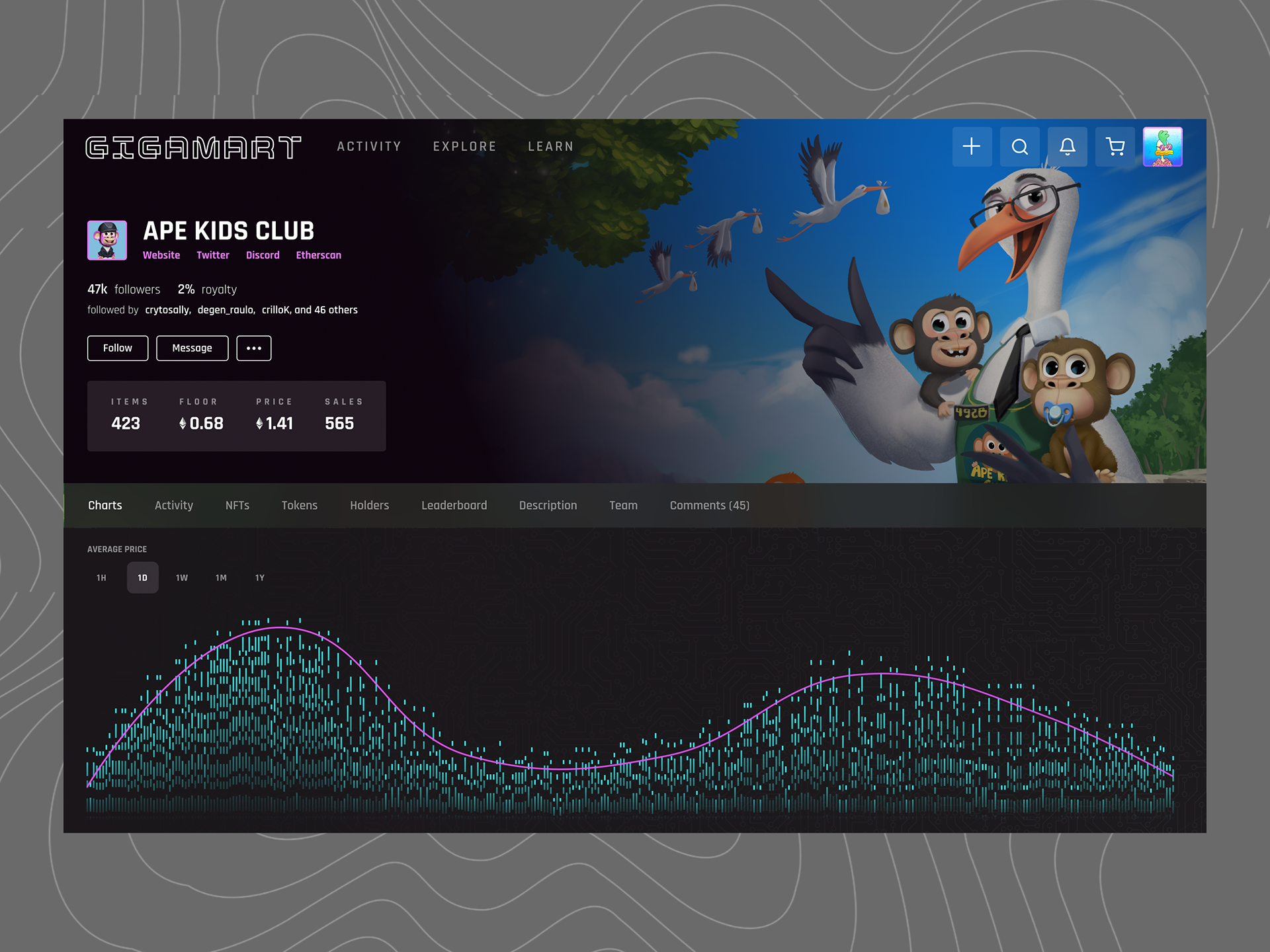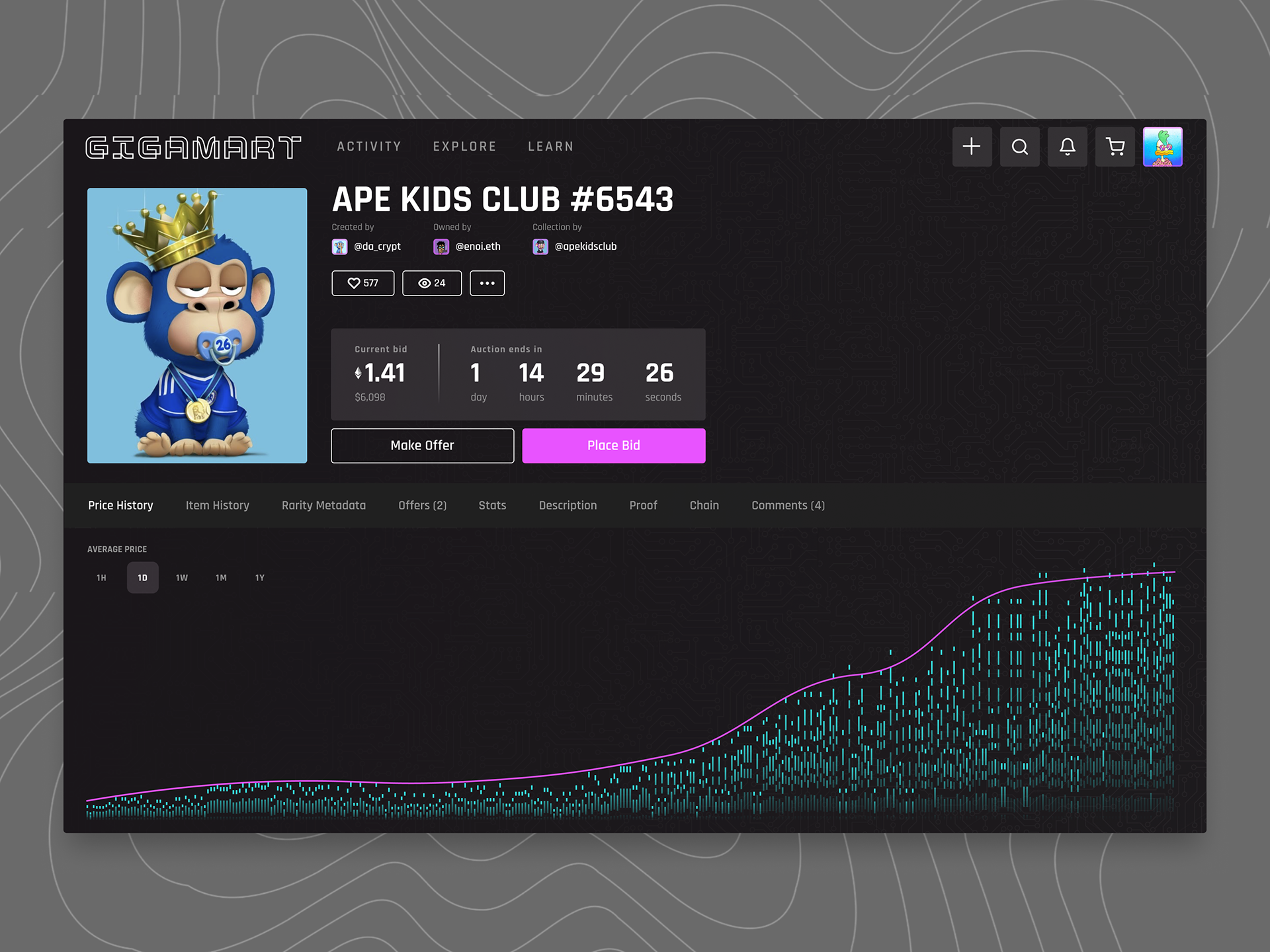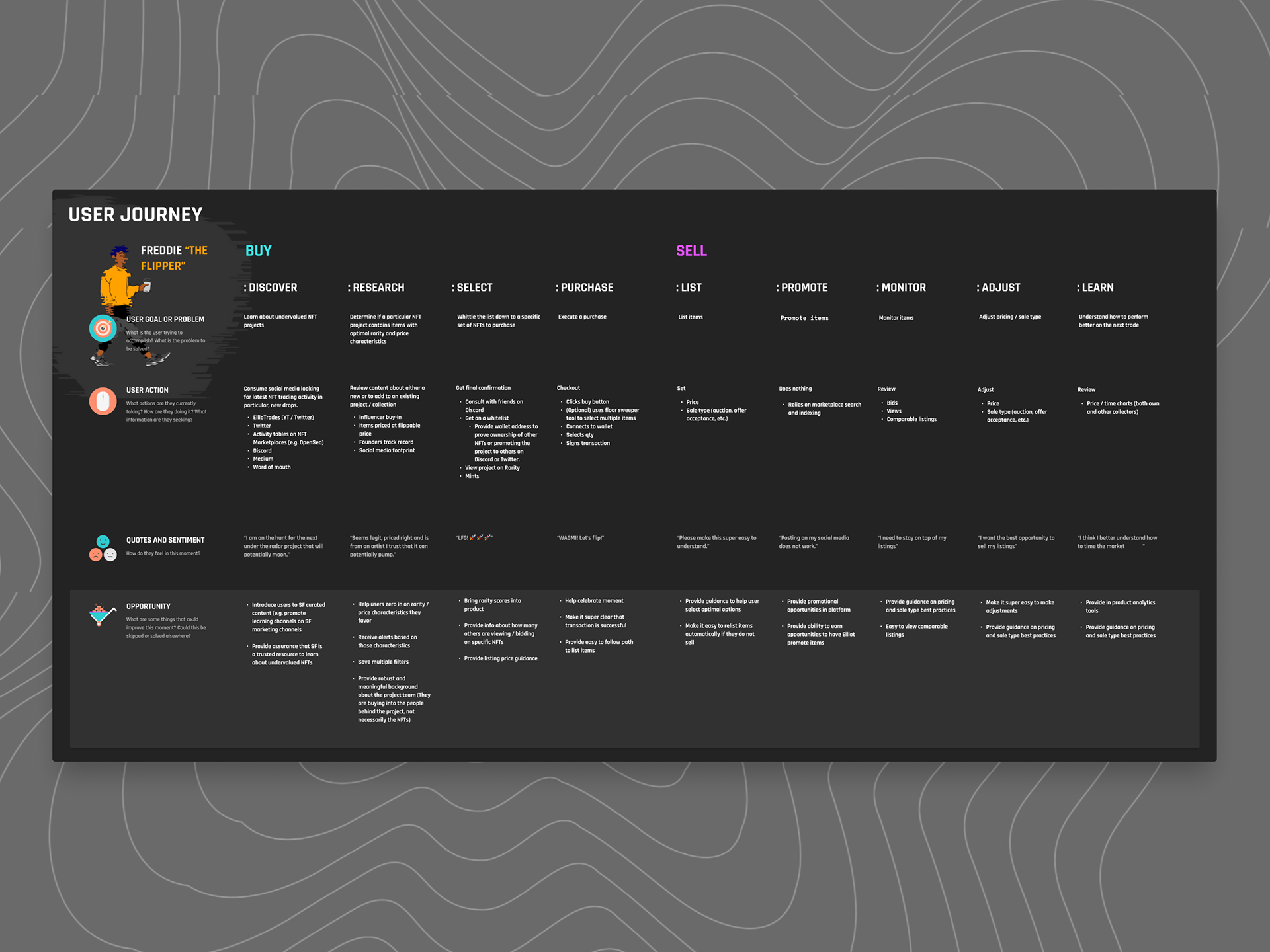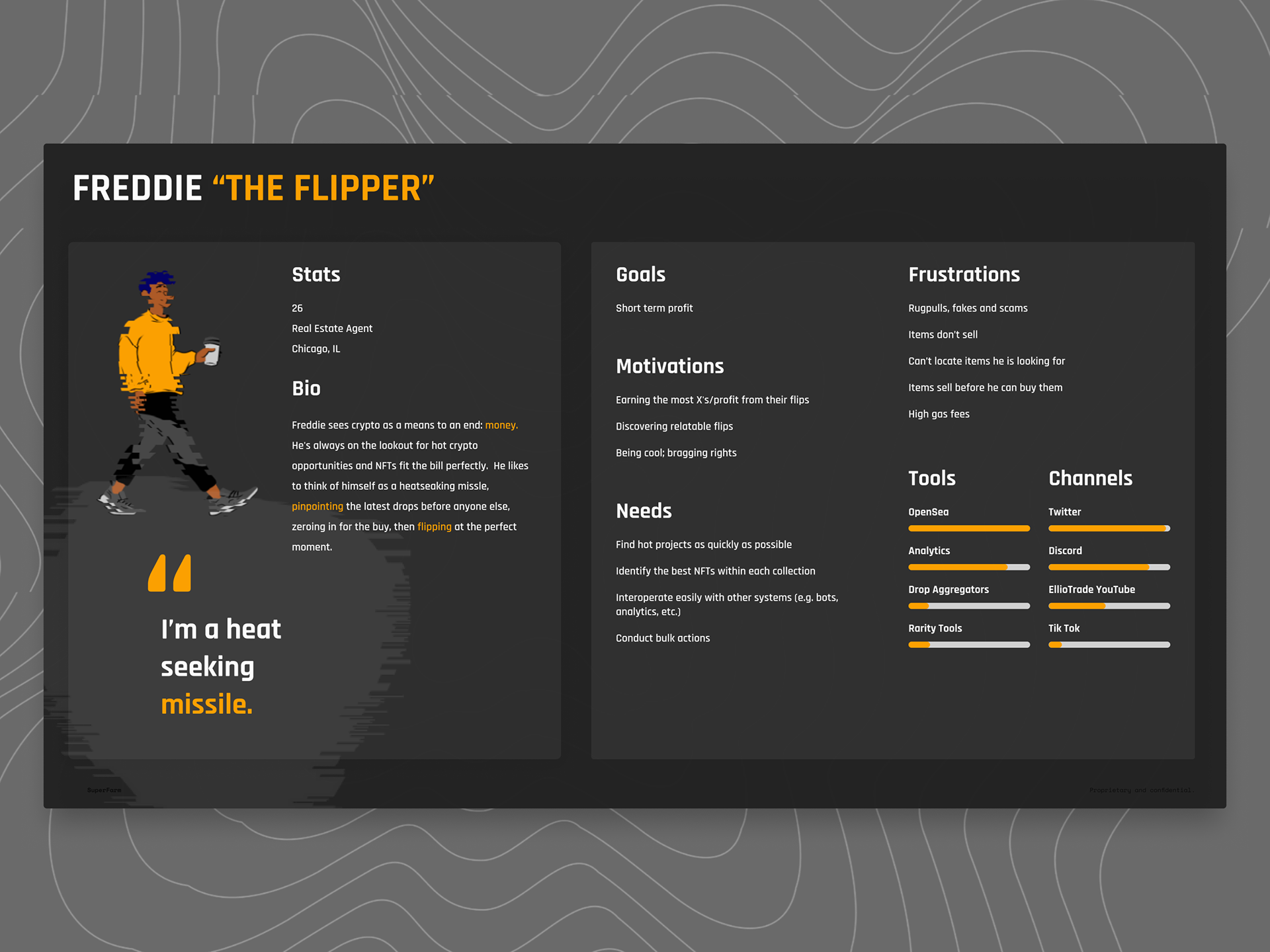 An emerging NFT marketplace company asked me to review their current design process and planned designs. They had already designed and built most of the experience without conducting foundational product design staples like defining user personas, conducting base-level user interviews, and documenting the user journey.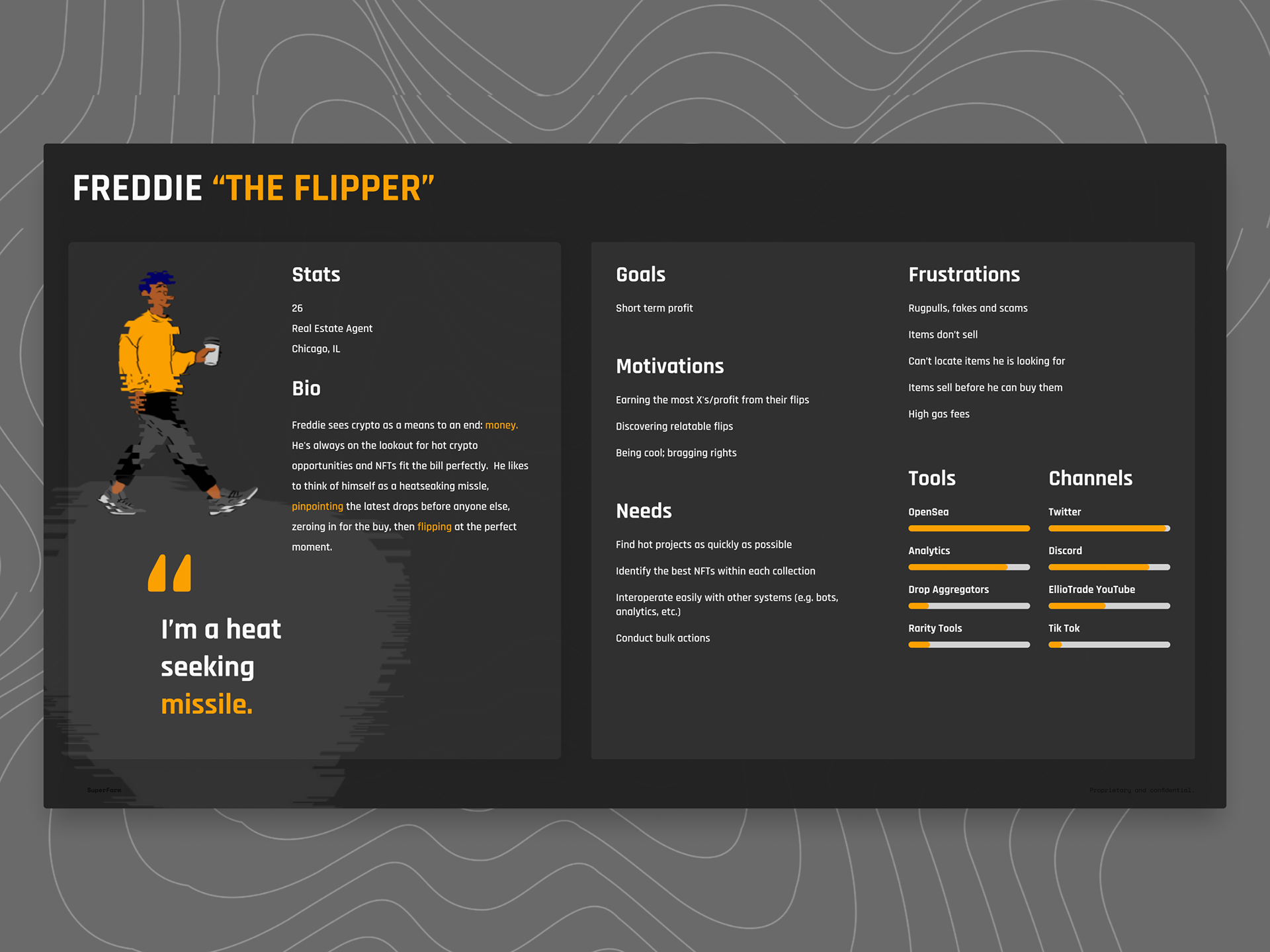 The first step was to define a User Persona. I conducted several user interviews including internal stakeholders which resulted in the creation of the above artifact,
This is an NFT user persona called Freddie "The Flipper" which highlights the goals, motivations, needs, and frustrations of an aggressive NFT art trader whose passion is to flip undervalued NFT art for profit.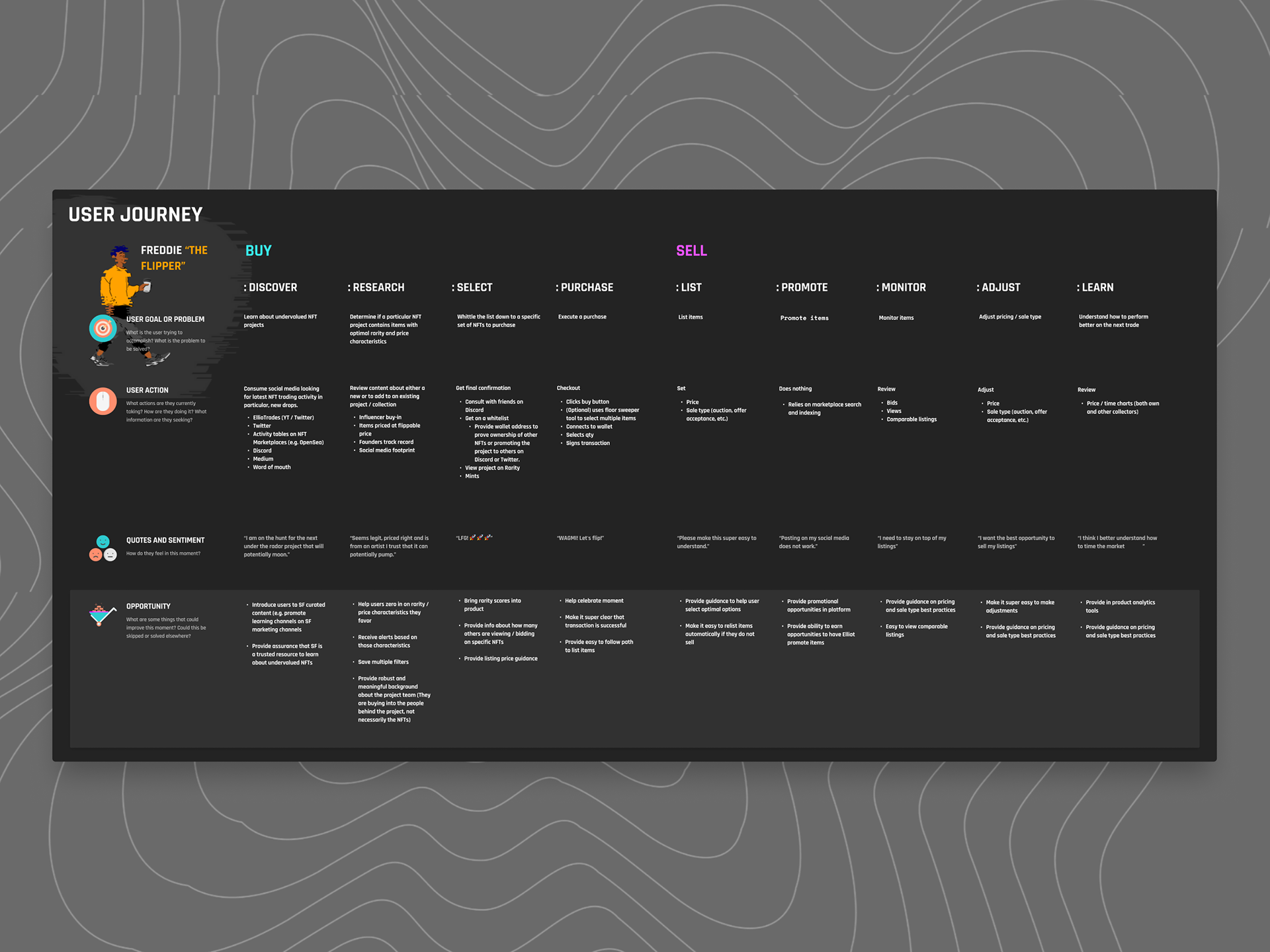 The second step was to interview several users in order to properly document the user journey (above).
Freddie "The Flipper" is an aggressive NFT profit seeker. When designing a new NFT marketplace experience for this persona, it is important to begin by understanding the user journey. This artifact was created after interviewing several prolific NFT traders and creates a critical anchor point when designing the product - a new NFT marketplace.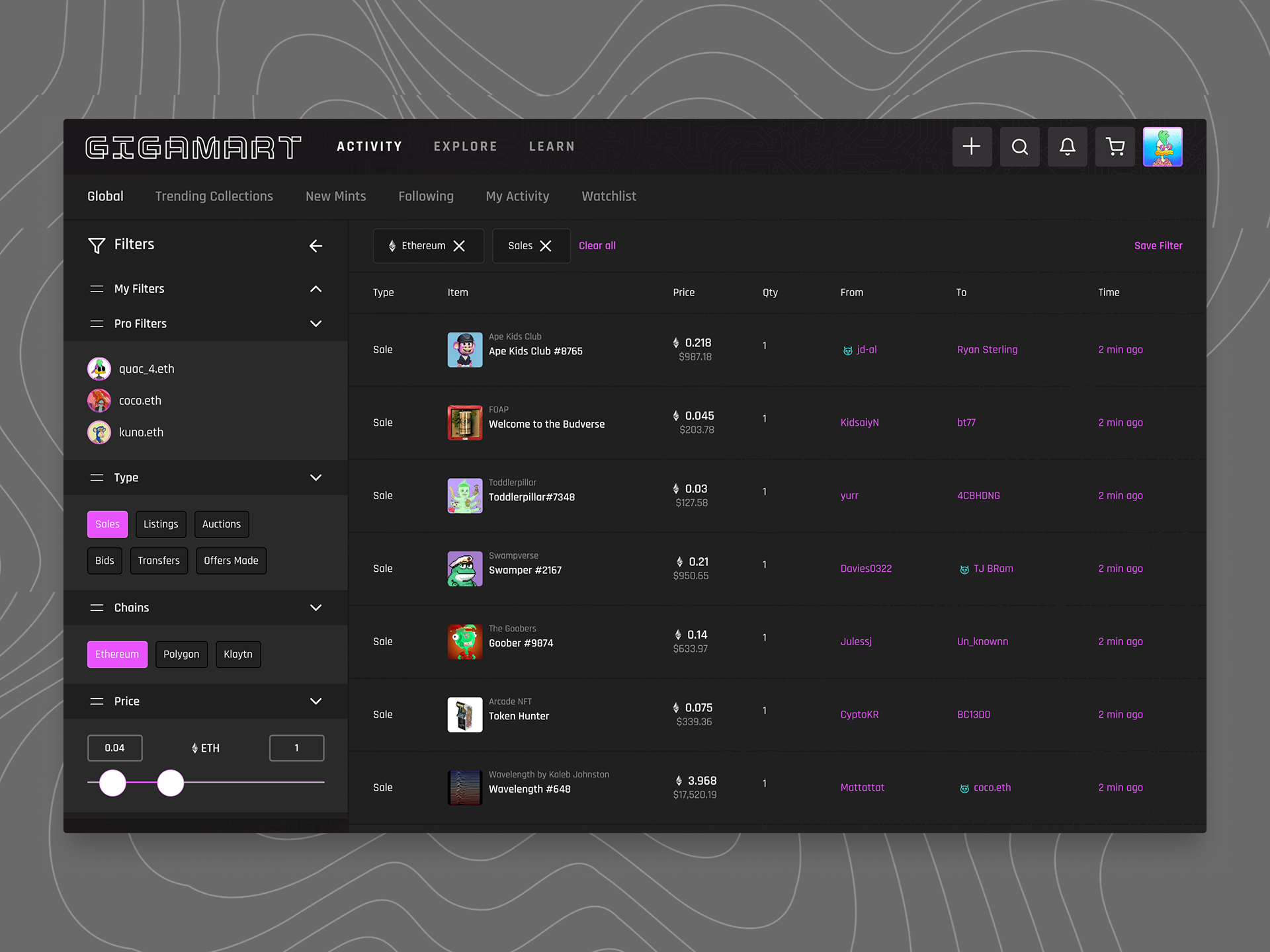 Once the user journey was documented it was clear that the product needed a recent activity screen (which was not part of the company's original set of designs) among other experiences to ensure that users were given enough incentive to start their journey in product and not elsewhere.
This is a design for an NFT marketplace where the user is using this product to first discover NFT art collections that are highly active. This is the first step in the aggressive NFT trader's user journey and may watch this page throughout their day to keep tabs on collections with highly active trading. This power user may also be interested in how other pros filter this list and may want to save and share their favorite filters with their followers.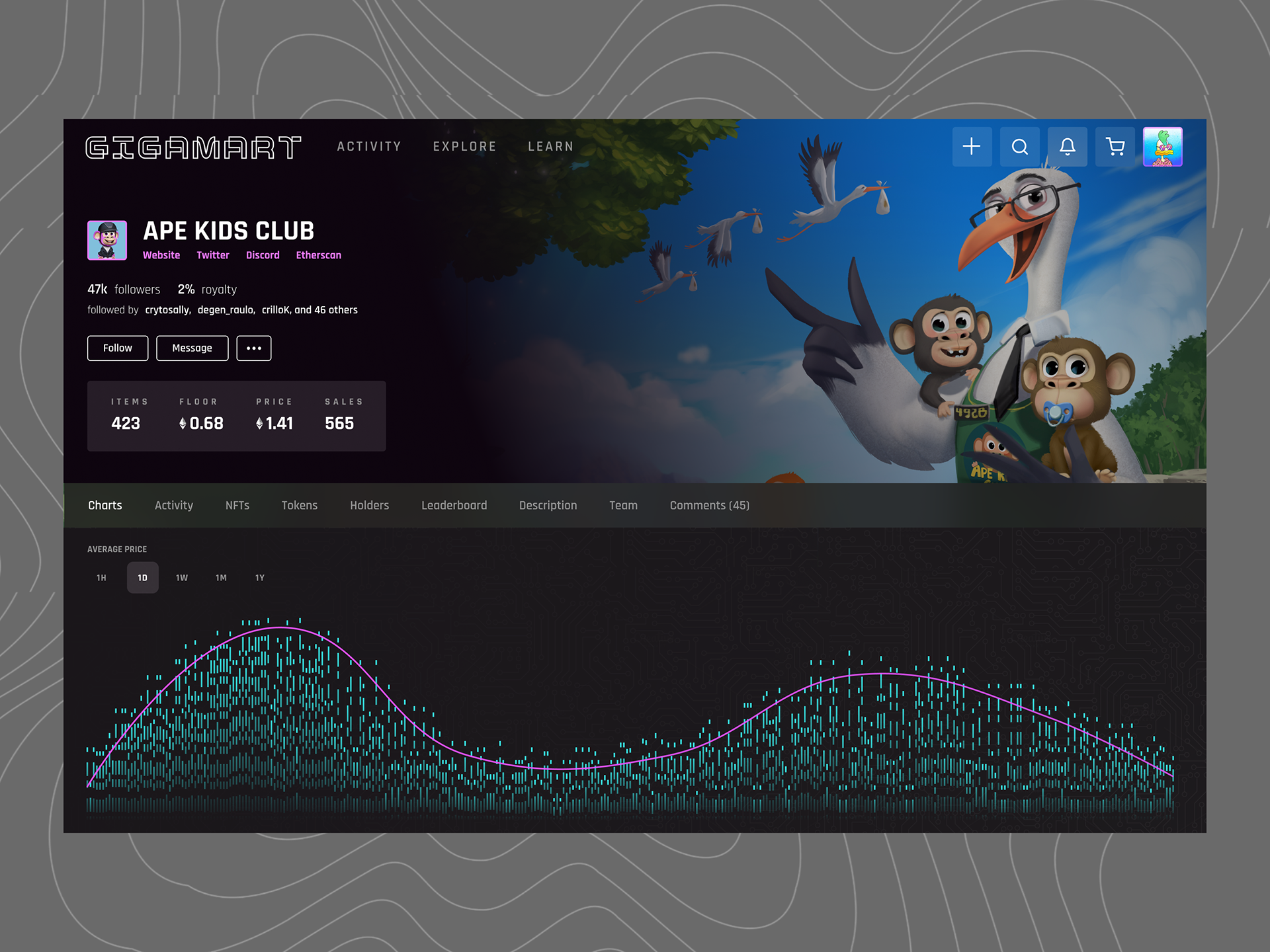 This is a design for a NFT marketplace collections page. This is a depiction of how an aggressive NFT trader begins their research into a specific NFT art collection in an effort to pinpoint specific items that may be undervalued and prime to be flipped for a profit. In this scenario, the user wants to understand the average price trend over specific periods of time and also be able to quickly review other data like activity, holders, roadmap, and the individual art items.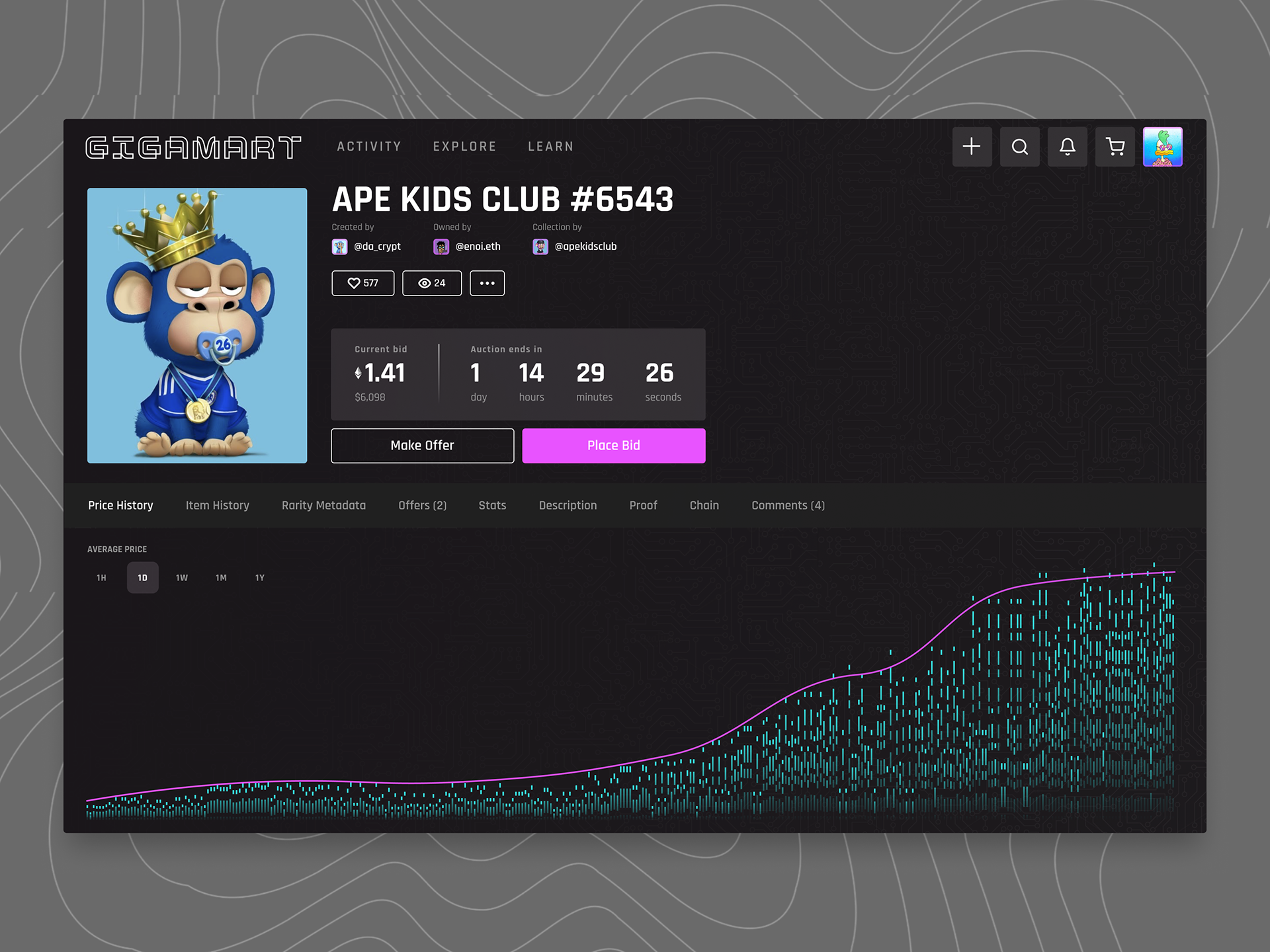 Once an NFT trader lands on a specific art item, they need several pieces of data to help determine whether or not this item may be undervalued and easily flipped including price history, item history, and rarity metadata to name a few.
It is very common for startups to skip foundational product design exercises like user interviews, personas, and personas as there is a tendency to view this work as either supplemental or time-intensive. Conversely, what I was able to demonstrate to the client was that this work is imperative to compete in crowded markets and can be done in a timely manner. I was able to complete this work in about 6 weeks while working part-time on the project. Companies that embrace human-centered design win in the margins because they pay attention to the important details that other companies miss. 
The startup client is currently implementing my recommendations and I look forward to seeing their soon-to-released product become the gold standard in the crowded NFT marketplace space.